Stillinger Investigations, Inc., the dependable investigative firm, has opened new offices in Charleston, SC, and will be available 24 x 7 for the benefit of its clients.
The renowned Private Investigators have a combined experience of more than 125 years. It has consistently leveraged itself for clients to meet their expectations. That's why the investigative firm has garnered strong customer reviews and has become a force to be reckoned with. Charleston, SC, and surrounding areas can make the most of these services.
Stillinger Investigations, Inc., the dependable investigative firm, has opened new offices in Charleston, SC
"We are a private investigation team focusing on adultery, child custody, insurance fraud, civil litigation, and criminal defense investigations. With 12 full-time, licensed investigators, we provide prompt, thorough, dependable service to attorneys, insurance companies, and individual clients throughout the Southeast US," says Brian Stillinger of the company. From personal investigations to businesses, the company has worked with a wide range of clients offering the best results.
Stillinger Investigations, Inc. has also earned its reputation as surveillance experts. Businesses that don't want their sensitive information falling into the wrong hands can take advantage of the eavesdropping solutions offered by the company. They also benefit from counter-surveillance measures to detect conventional bugs, sophisticated eavesdropping equipment, and Wi-Fi or Bluetooth networking devices.
It's interesting to note that the top Private Investigator firm also works with law enforcement bodies to solve crimes. Its forensic expertise has helped identify criminals. Its services have also been used by local bodies to find missing persons. The company carries out background checks, and questions witnesses. It deploys other investigative tools and techniques to narrow down the list of suspects or find the missing individual.
The company has been instrumental in ensuring that its clients' legal rights are met. It offers strong evidence in adultery and infidelity cases, which can corroborate doubts or dispel them, depending on the situation. This evidence is of great importance for child custody and divorce proceedings.
That's why it's been hit the right spot with insurance companies, as it leads to settlements with claimants. And now these versatile and reliable services are available for anyone looking for a trusted Private Investigator in Charleston, SC. With 24 x 7 availability, the company can meet their demands at any time and help with all types of investigations.
About Stillinger Investigations, Inc.
With a combined experience of around 125 years behind it, the result-oriented and reliable investigative firm has made a name for itself by undertaking investigations for clients and living up to their expectations.
Media Contact
Stillinger Investigations, Inc.
Address: 170 Meeting Street, Charleston, SC 29401
Phone: (843) 212-1338
URL: https://investigatesc.com/private-investigator-charleston-sc/
Email: info@investigatesc.com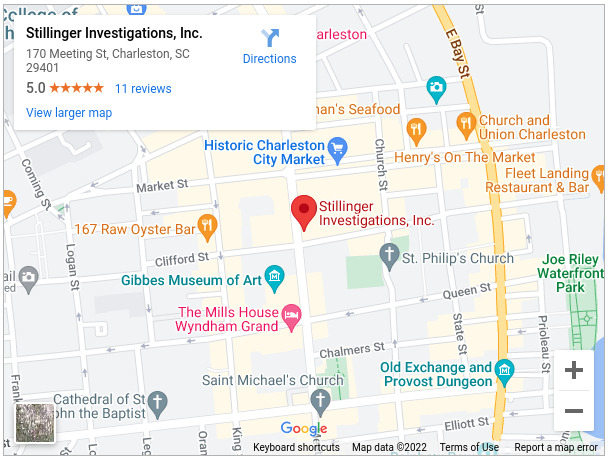 newsroom: news.38digitalmarket.com
This content is published on behalf of the above source. Please contact them directly for any concern related to the above.