With the 2023 Australian Open nearing its conclusion, we look back at a charismatic Russian former winner of the event
The Australian Open runs to its conclusion this weekend, with the first Grand Slam of 2023 set to be bookended on Sunday when the men's championship match is played between record nine-time winner Novak Djokovic and debut finalist Stefanos Tsitsipas.
With the exit of Karen Khachanov in the semifinals at the hands of Tsitsipas, Russia is again left ruing a missed opportunity for glory in Melbourne after Daniil Medvedev was beaten in successive finals in the past two editions of the tournament.
Indeed, it is fast approaching two decades since the last Russian man won the title Down Under. On that occasion it was Marat Safin, one of the most charismatic, combustible characters of his or any other generation of tennis talent. The second Russian to win the Australian Open after Yevgeny Kafelnikov in 1999, Safin struck gold in 2005 in Melbourne by coming back to beat local favorite Lleyton Hewitt in what was his last great individual triumph.
Despite retiring prematurely in 2009, Safin is far from forgotten in the tennis world - as evidenced by a viral throwback photo from 2002 which circulated during the current edition of the Australian Open, and which featured the eye-catching female following in Safin's box during his playing days.
A playboy once described as a "two-meter embodiment of women's dreams" by compatriot Dmitry Tursunov, Safin was often admired for his "frankness, outrageousness and charm" - married with no shortage of talent on the tennis court. The Australian Open was a tournament that Safin graced with all of those attributes, reaching the final three times. The re-emergence of the famous photo from 2002, where he allegedly partied before being beaten by underdog Thomas Johansson in the final, has led to many recalling one of the most colorful characters to have played the game.
Rise to the top
Born in Moscow to Tatar Muslim parents, Safin showed early promise as a tennis prodigy and moved to Valencia in Spain as a 14-year-old to access advanced tennis training programs. As a teenager who - in his own words - grew "very fast ... with no muscles," Safin felt that Spain's clay courts would be better for his knees.
The surface was arguably better for his overall career progression and development. After turning professional in 1997, he took the scalps of Andre Agassi and reigning champion Gustavo Kuerten at the 1998 French Open, before being eliminated in the fourth round by two-time Grand Slam finalist Cedric Pioline. Agassi pulled one back against Safin by beating him in the final of the Paris Masters in November 1999, but Safin had already tasted triumph by pipping Brit Greg Rusedski in an ATP final in Boston in August.
Turning 20 on January 27, 2000, the new millennium ushered in Safin's most successful year in which he set records that remain intact to this day. He won a Masters tournament in Canada, then beat four-time champion and 90s great Pete Sampras in straight sets at Flushing Meadows to become the third youngest winner of the US Open aged just 20 years and 228 days.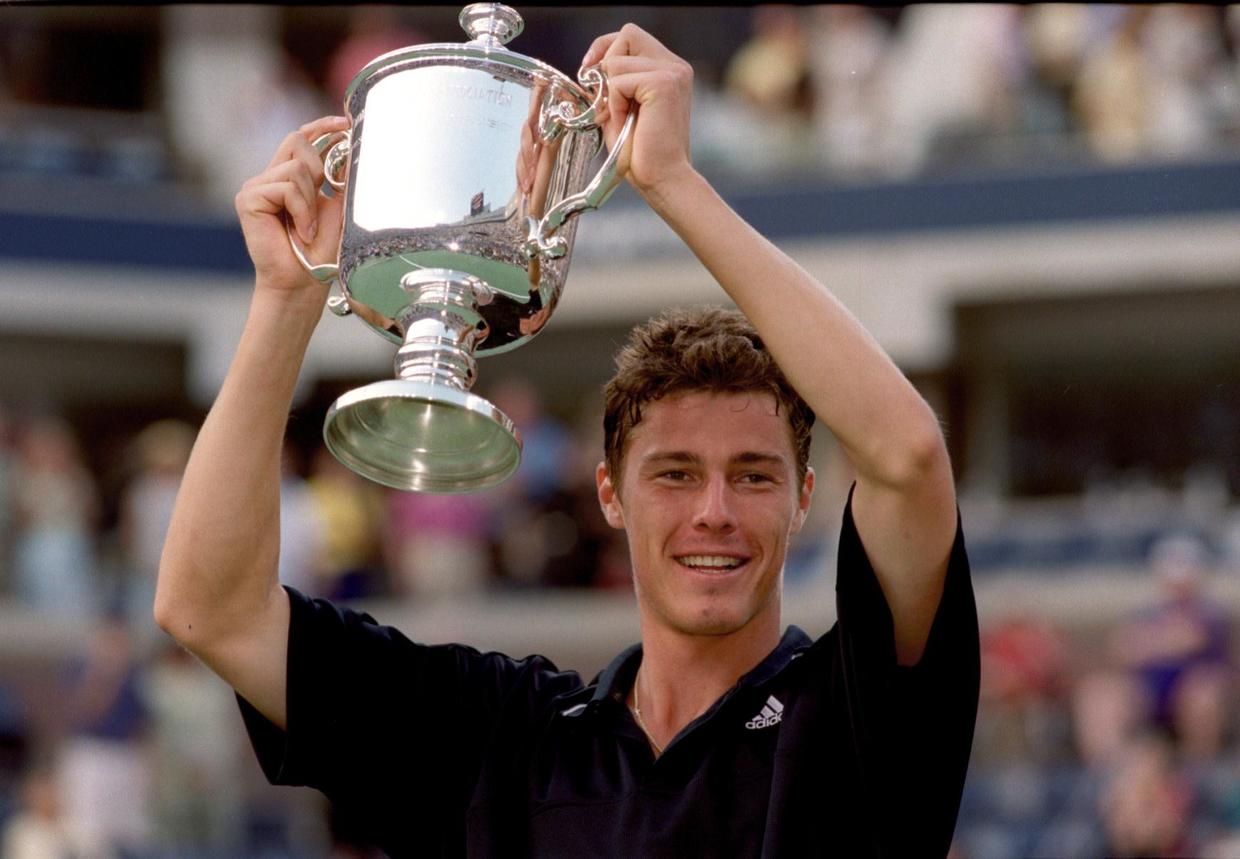 A fresh-faced Safin won a stunning victory at Flushing Meadows in 2000.
Jon Buckle / EMPICS via Getty Images
Safin's maiden Grand Slam title also saw him become the first Russian to win the title in New York - and it was a full 21 years until Daniil Medvedev became the second to do so by beating Novak Djokovic in the 2021 final. The youngest Russian winner of any major tournament, Safin went on to become the youngest player of the Open Era at the time to reach the world number one ranking with his number of titles (seven) the most on the ATP Tour that year.
"For me it was very strange in my experience reaching number one. I wasn't ready for that because I couldn't imagine just a few months earlier that I'd have the chance to become number in the world. I was Top 50, dropping, playing very badly," Safin later confessed to ATPTour.com. "I underestimated myself... I didn't believe in myself, and I was seeing myself weaker than others, which is unbelievable. Now I can understand tennis better."
The fire and the fury
By now, Safin was building a reputation as a fiery personality who brought everything to the court and who would often take out his frustrations on his racket. Not only boasting generational talent, he had the heart to battle through adversity and was a must-see draw for the crowds, whether on fire at his unbeatable best or out of sorts due to his temperament. In the Paris Masters final of 2000 against Mark Philippoussis, for example, Safin became bloodied from diving for a volley and beat the Aussie with a bandage over his right eyebrow through five sets and a tiebreak.
While 2001 proved relatively quiet, save for two ATP finals victories in Uzbekistan and St. Petersburg, Safin reached his first Australian Open final in 2002 but was upset by Thomas Johansson - turning heads with the aforementioned entourage in his box along the way. Some years later, another controversial character in Daniel Kollerer claimed to have seen Safin partying and drinking before the match played in the run-up to his 22nd birthday.
"He [was] so drunk he can't even walk on his two feet, it can not be that bad," reminisced the German to Unbreakable Media while talking about his own descent into a hedonistic lifestyle. "He could never win because he was so drunk, unbelievable. He was celebrating the night before like it was his birthday party. He celebrated like he already won the Australian Open."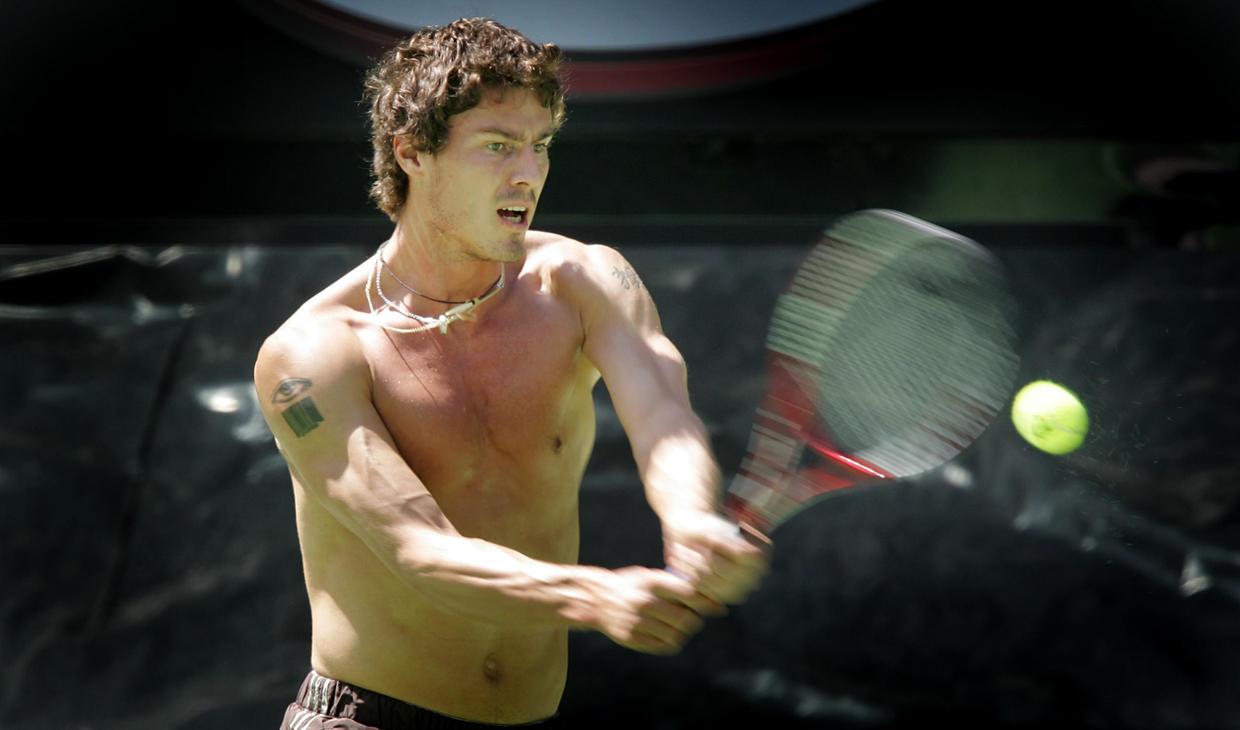 Safin was often portrayed as something of a party boy.
Fairfax Media via Getty Images via Getty Images
Safin's first French Open semifinal ended in disappointment too, and he also fell short of regaining his world number one spot. But he ended the year well by beating the holder of the spot, Hewitt, to clinch the Paris Masters again and by leading Russia to its maiden Davis Cup title in December.
A string of injuries blighted Safin's 2003, as they did for much of the remainder of his career. Yet he returned to the Australian Open in fine form in early 2004 by topping number one seed Andy Roddick in the quarterfinals and Andre Agassi in the semi-finals, ending the American legend's 26-match winning streak at the tournament. Those five-set affairs drained Safin, however, and rising star Roger Federer blew him away in straight sets in the final to become world number one for the first time in his career.
That year was another which started with disappointment but ended well for Safin. Losing his head at the French Open and receiving a $500 fine for "racquet abuse" but strangely not for dropping his pants, he blasted "all the people who runs the sport" in a memorable interview.
"They have no clue!" said Safin ranted. "It's a pity that tennis is really going down the drain... They do everything that is possible just to take away the entertainment. You're not allowed to do that; you're not allowed to do this. You're not allowed to speak whenever you want to speak..." Later, though, he claimed a third Paris Masters crown and became the first man to win the final two Masters of the calendar in the same year by sealing victory in Madrid.
Success Down Under and early retirement
In 2005, Safin got off to the best possible start by reaching his third Australian Open final in four years - and this time finishing the job. In the semifinals, he got his revenge over Federer by winning a five-set thriller, then swatting away Hewitt in the final in four sets after going one down.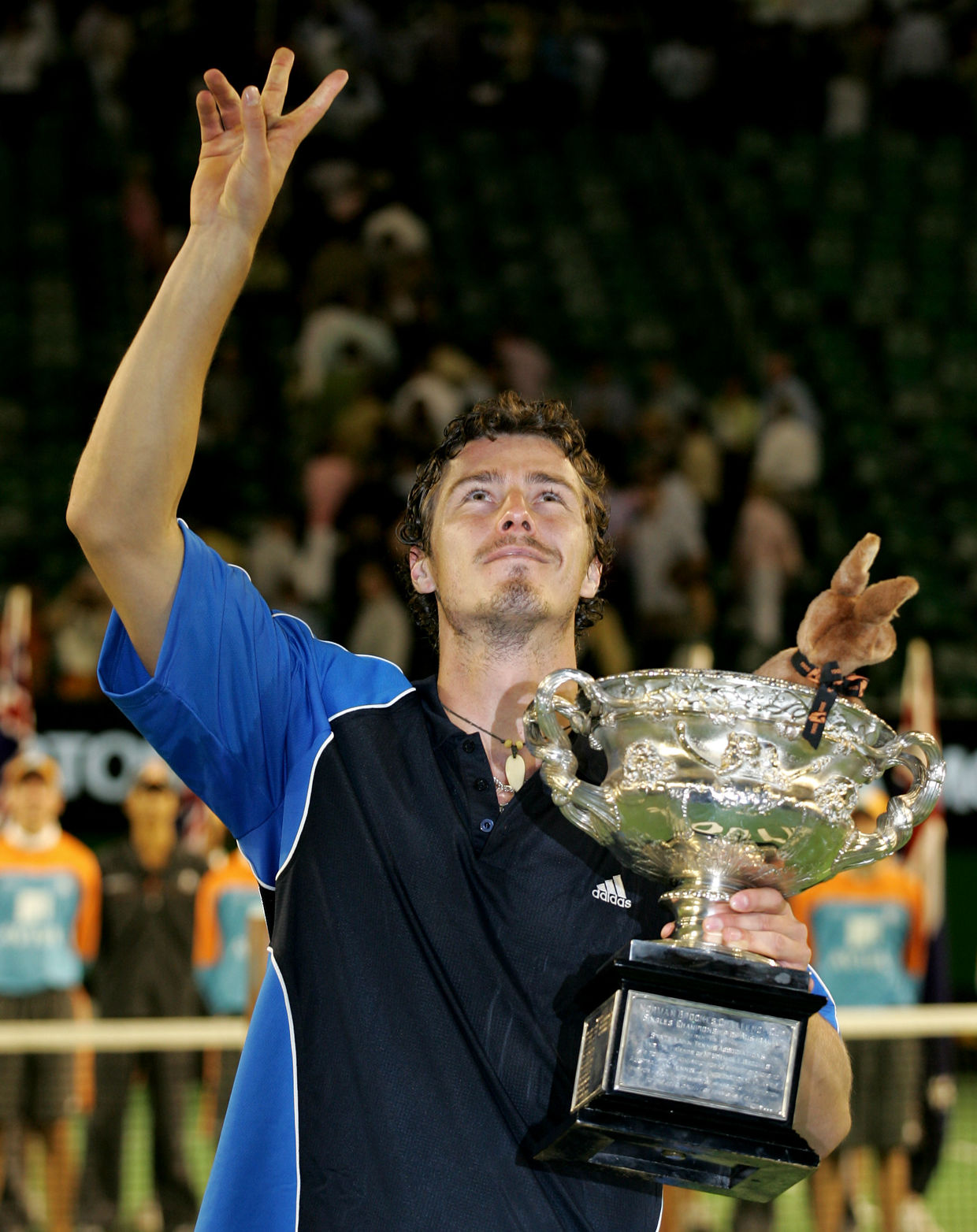 Safin tasted Grand Slam success for the second time in Australia in 2005.
Fairfax Media via Getty Images via Getty Images
Sadly, injuries would keep Safin off the court for the rest of the season. Save for winning the Davis Cup with Russia for a second time in 2006, Safin was often perceived as something of a spent force at the top level, except for becoming the first Russian to reach the semifinals at Wimbledon, where Federer beat him, even though Safin harbored an open disdain for grass.
Despite retiring prematurely in late 2009 aged just 29, Safin still boasted a storied career and was immensely popular as a player twice voted the ATP Fan Favorite. The men's tour described him as a "must-watch player" and many felt he could have achieved more given his natural genius.
For this and other facets of his personality, Safin is perhaps most comparable to modern day star Nick Kyrgios as his generation's most eye-catching on-court presence but with a hint of nonchalance and accusations of underachievement - although unlike the Aussie, Safin does have Grand Slam success to his name. As with Kyrgios, Safin was known for often smashing his racquet - destroying a total 1,055 of them, according to his sponsor who kept count.
In one of his last stands, at the 2008 Cincinnati Masters, Safin was booed various times by the crowd after throwing his racket and rowing with the match official. He still managed to end his career on good terms at the Paris Masters, though, where he was given the Bercy key after crashing out in the second round to Juan Martin Del Potro in November the following year. In an emotional farewell, Safin said: "Today I will put all my memories, all my wins and losses in a small box. Today a door is closed, hopefully another one will open."
Post-career life
Another door did open, and it happened to be in politics around two years later as Safin was elected to the Russian State Duma as a member of the United Russia Party. It was not to be a long-term career choice, however, and Safin stepped down from his role representing Nizhny Novgorod in May 2017. "I was young and unexperienced. They talked me into it," he later claimed. "'Polite' and 'likeable' people. But I don't regret it. I practiced and used my law degree, I have learned a lot. I got much more experience and finally, more importantly, six long years in the top politics on the federal level in such a huge country like Russia is an amazing achievement, and a very serious lesson."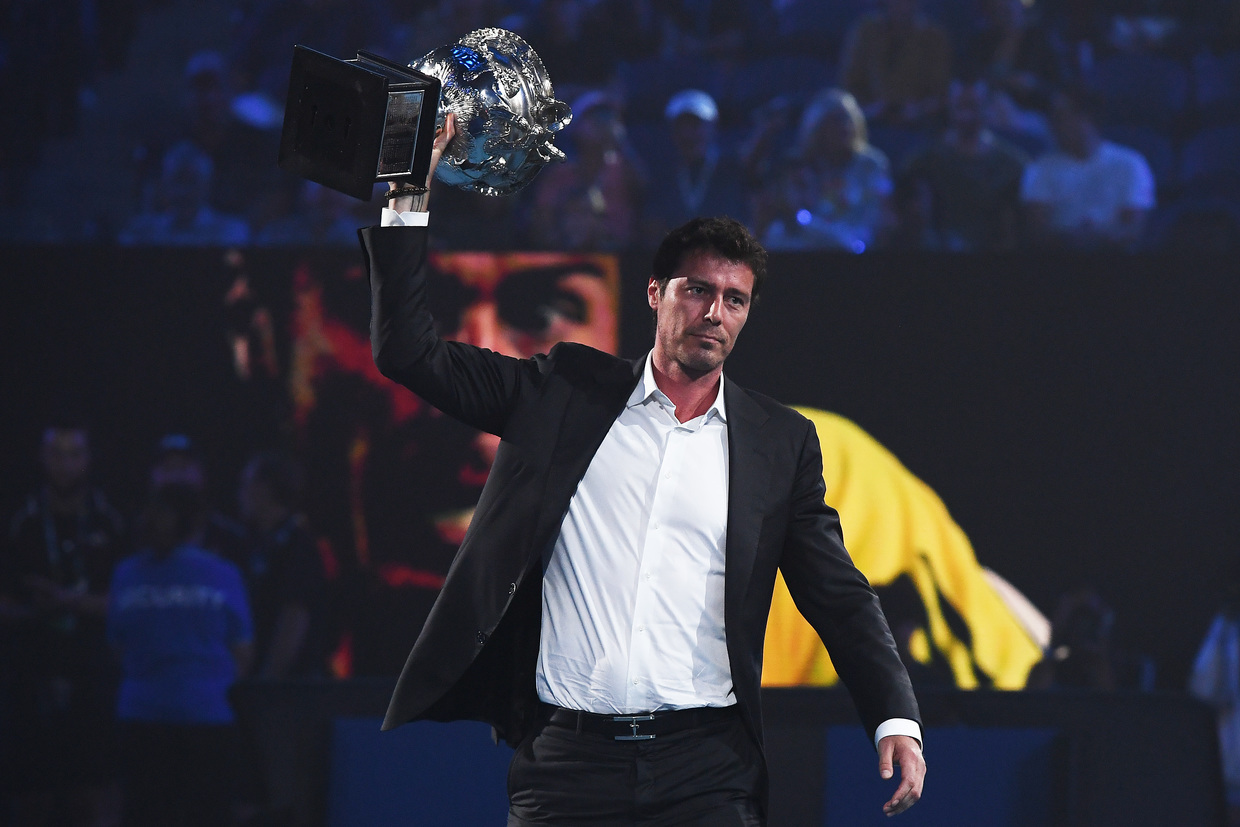 Safin pictured at an Australian Open ceremony in 2020.
Quinn Rooney / Getty Images
Safin, whose sister Dinara also enjoyed a successful professional career and reached three Grand Slam finals, went on to become an official for the Russian Tennis Federation and a member of Russia's Olympic Committee. He stayed connected to the sport through coaching a Russia 'Dream Team' featuring Medvedev and Khachanov while attempting to recapture his Davis Cup glories after becoming the first Russian tennis player inducted into the sport's Hall of Fame in 2016.
"We had ups and downs, we cried, we broke rackets, we shouted some words, we threw the balls out of the court, we insulted the referees, only sometimes," Safin said at his induction with laughter. "But this is a part of our life. I'm just so pleased to be part of it. It's a huge honor to be inducted and be part of history."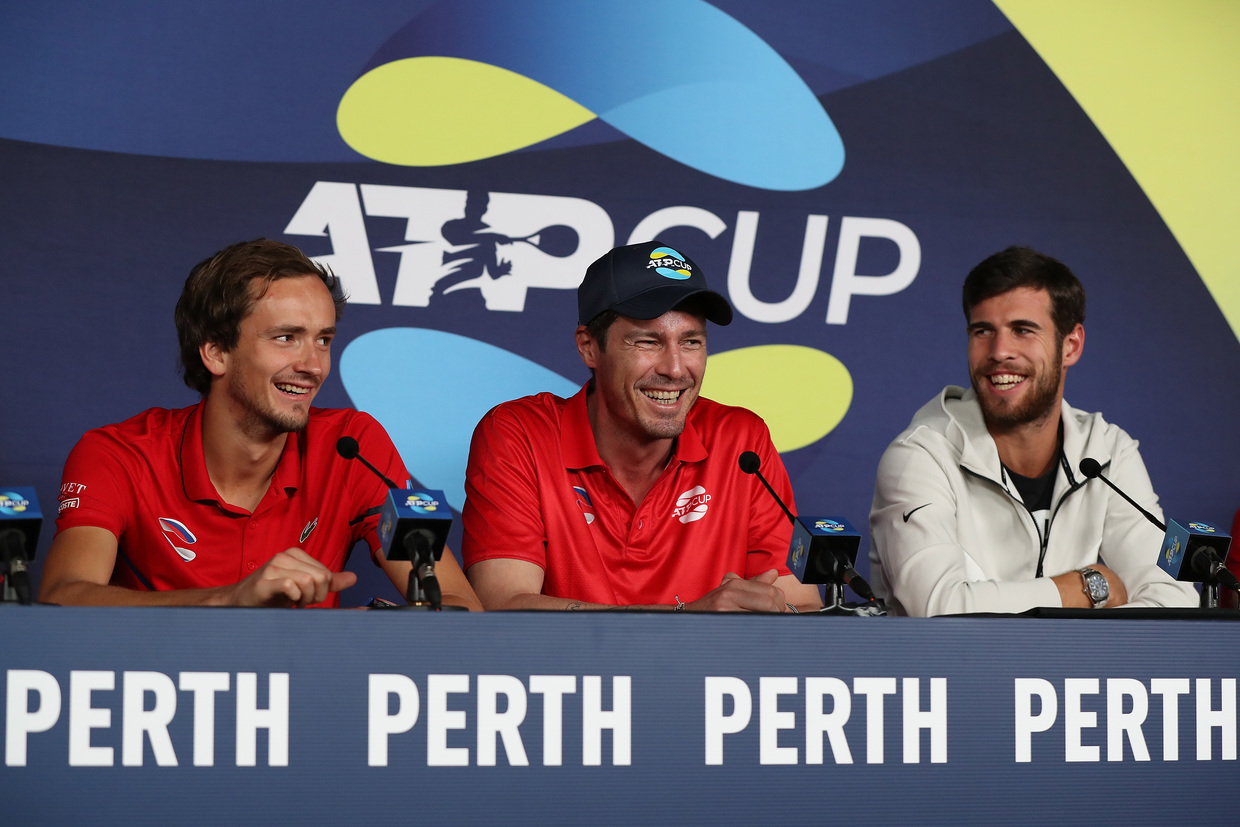 Safin pictured at the ATP Cup in 2020 alongside current Russian tennis stars Daniil Medvedev and Karen Khachanov.
Paul Kane / Getty Images
Making headlines for his views on Covid-19 during the pandemic, Safin has been out of the spotlight of late until his recent viral resurgence due to the photo circulating on Twitter from the Australian Open in 2002. That image did not even feature Safin himself, but rather the collection of fetching blonde women in his player's box known as the "Safinettes" and boasted two Moscow models. Current Australian tennis star Thanasi Kokkinakis even described Safin as the GOAT - greatest of all time - for the eye-catching team he had managed to assemble.
Safin is said to have had no fewer than eight women in his player's box during his run to the final in Melbourne, with a tour insider saying that the Russian "never has difficulty finding female supporters". "His little black book would be pretty impressive," the source added to Herald Sun.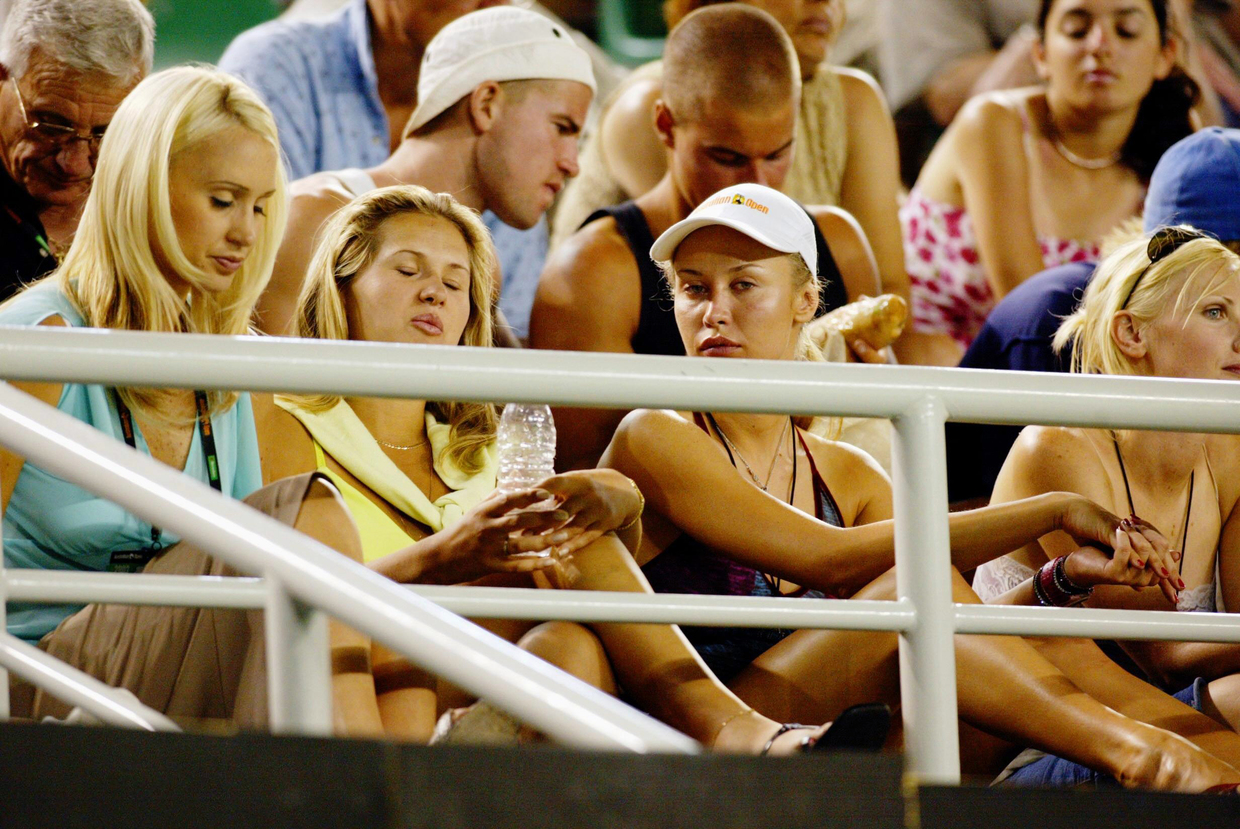 Members of Safin's entourage at the 2002 Australian Open.
Fairfax Media via Getty Images
The Melbourne daily newspaper wasn't the only outlet to pick up on the Safinettes' presence, as Channel 7 focused on them during Safin's matches and on-court interviews. "I have to say thank you to all my family sitting over there," he said to laughter on Center Court at the Rod Laver arena, while gesturing towards the 'harem', as the media dubbed them. Safin, who celebrated turning 43 on Friday, described Australia as a place that "stays in my heart." "I have great memories from Australia. I played well and happy there," he recalled.
It perhaps seems unfathomable that a player on the current ATP tour could pull off such a stunt. Yet that was Safin - a unique entertainer full of charisma from a bygone era, but still remembered warmly and with many of his impressive records still intact.
(RT.com)