Washington - President Joe Biden opened his second Summit for Democracy on Wednesday, pledging that the United States would spend $690 million in the coming year to boost democracy programs throughout the world.
'We're turning the tide here. As we often say, we're at an inflection point in history here, when the decisions we make today are going to affect the course of our world for the next several decades for certain,' Biden said.
The White House noted the U.S. especially wants to make 'technology work for and not against democracy.'
In the same vein, the prime ministers of eight European countries signed an open letter to the chief executives of major social media companies calling for them to be more aggressive in blocking the spread of false information on their platforms. The leaders of Ukraine, Moldova, Poland, the Czech Republic, Estonia, Latvia, Lithuania and Slovakia signed the letter.
'Tech platforms like yours have become virtual battlegrounds, and hostile foreign powers are using them to spread false narratives that contradict reporting from fact-based news outlets,' the letter says. 'Paid ads and artificial amplification on Meta's platforms, including Facebook, are often used to call for social unrest, bring violence to the streets and destabilize governments.'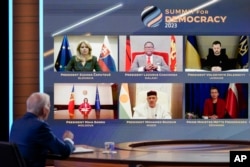 World leaders attend virtually as President Joe Biden speaks during a Summit for Democracy virtual plenary in the South Court Auditorium on the White House campus, in Washington, March 29, 2023.
About 120 global leaders are participating in the largely virtual summit, Biden's attempt to bolster the standing of democracies comes at a time when autocratic governments have advanced their own agendas, such as Russia's 13-month invasion of Ukraine, and China with its alliance with Moscow.
'President Biden has called the struggle to bolster democratic governance at home and abroad the defining challenge of our time,' the White House said. 'That is because democracy - transparent and accountable government of, for, and by the people - remains the best way to realize lasting peace, prosperity, and human dignity.'
Ahead of short addresses from national leaders defining democracies in their own countries, Biden and South Korean President Yoon Suk Yeol said in a joint statement, 'Strengthening transparent, accountable governance rooted in the consent of the governed is a fundamental imperative of our time.'
The White House said the new U.S. funding, subject to congressional approval, would focus on programs that support free and independent media, combat corruption, bolster human rights, advance technology that improves democracy, and support free and fair elections.
But the White House also acknowledged the U.S.'s own democratic shortcomings, including that Biden had so far failed to win congressional approval of legislation he has sought to expand voting rights. But it noted the Justice Department staffing to enforce voting rights has been increased and legislation approved to clarify congressional voting procedures to count electoral votes in presidential elections.